Book Publication
Keen To Learn Everyday
MICA Education has been a group of I.T. scholars and teachers who are dedicated to educate and update about I.T., and enhance logical abilities by teaching in schools.
MICA had been providing comprehensive, practical oriented and useful study material to the students and gained hands-on experience while teaching computer as a subject & interacting with students from different backgrounds of various schools.
In the process of imparting education, it realized the need of economical, interesting, useful and organized content as per the standard of students that could cater to an increased number of learners. Consequently, it started publishing the books professionally, that were released in the market during 2005.
MICA EDUCO Publishers has the highest reach of Computer textbooks in the state of Jharkhand. Interestingly, MICA has also been the first organization to publish vocational IT books (as prescribed by CBSE) for class IX and X.
Making use of experiential learning during the teaching process of hundreds of teachers; the organization composes world class practical oriented books which have distinct features like :
 Use of Simple Language
 Impressive, Colourful layouts and Self-explanatory pictures and diagrams
Contents corelated with real life situations for better understanding
 Lab assignments between the corresponding theoretical portions for practical exposure, so that the students know how to apply their learning in the computer lab
 'Tech facts' that provides latest updates about I.T
 Chapters designed to help in development of reasoning and logical ability among students
 Use of generic terms, to create an environment where the students learn the concept not the proprietary product
MICA is enriched with academic experience as it has been empanelled by CBSE for training teachers of CBSE schools.
MICA also keeps organizing training workshops for the computer teachers of different schools. It also keeps updating many schools on IT and computer education, new technology, IT guidelines and about the specific direction from the boards.
Apparently MICA realized the need to help to curtail the exodus of national economy and promote the usage of freeware i.e. to install, use and apply software that are free of cost. This enabled teaching the budding generation and acquaint them with such free packages so as to avoid paying high price for proprietary  software products and discourage the use of pirated software.
Hence it took initiatives to introduce freeware in its books and use the generic terms in the contents and also to promote open source. Incidentally it is the first and among the only few organizations in India to introduce freeware.
To help the students learn the computer in an interesting manner, it has also developed free Educational software such as INTERNET DEMO, FUN-KEY, etc. COMPU-TUTOR.
It publishes world class books on Information Technology for CBSE, ICSE and Vocational Studies in accordance with the syllabus of different boards and endeavors to always offer something new with updated editions of books.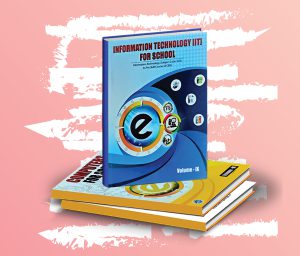 Products
| | |
| --- | --- |
| TITLE | PARTICULARS |
|  Computers for School |  For CBSE, JAC & Other schools – Class I to VIII |
|  Computer Application in School |  For ICSE schools- Class I to VIII |
| Compunik for School |  For CBSE schools- Class I to VIII |
|  CBSE IT-402 Vocational courses books |  For CBSE Class IX & X |
|  Computer for School |  FIT (code 165) for CBSE Class IX & X |
|  गाँव शिक्षा एवं रोजगार |  For learners of any age in the field of Special Vocational IT |
|  विद्यालय मे कंप्यूटर |  For Hindi Medium Schools – class III to X |